I was asked to create a work of art based on some of my feminist toiles by the Chappaqua Library to be given to Cecile Richards at an event on May 22, 2018 for her book tour.  It was an honor to create this piece for someone I truly admired for her leadership and advocacy for women's health and rights!  Last night I had the pleasure of presenting it to her.  I also created a pillow for her and one of the moderator for the event, Hillary Rodham Clinton, another powerhouse leader and defender of women's rights.
Cecile Richards and Hillary Clinton in conversation about Make Trouble.
With Cecile Richards and co-author, Lauren Peterson of Make Trouble: Standing Up, Speaking Out, and Finding the Courage to Lead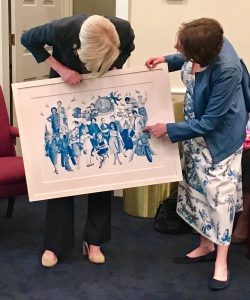 Pointing our the image of her mother, the late great Ann Richards, in the framed toile.
The pillow design for one side.
The pillow design for the other side.